Flight Attendant, Cabin Crew, Stewardess, Air Hostess Training Course in Shillong
Flight Attendant, Cabin Crew, Stewardess, Air Hostess Shillong, India, Northeast: Are you looking for the right training program to become a Flight Attendant, Cabin Crew, Stewardess, or Air Hostess? Maya Aviation Academy in Shillong, Northeast India offers a comprehensive training course that will equip you with the skills and knowledge needed to excel in this profession.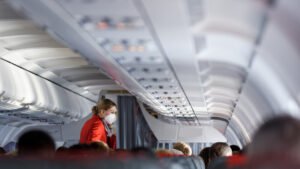 Course covers all aspects of cabin crew
The course covers all aspects of cabin crew operations and provides hands-on experience with real-life scenarios. With its experienced faculty and state-of-the-art facilities in Shillong, MayaAviationAcademy is the ideal place for aspiring flight attendants to get their training.
The program is designed to ensure that all students are adequately prepared for the challenges involved in this profession.
It starts with your initial course requirements and covers topics like customer service, aircraft operations, aviation law, culture and ethics, airport security procedures, and many more.
The course includes theoretical lectures
The course includes theoretical lectures followed by practical sessions at the airport where you will use your skills to handle real-life situations such as lost luggage or a screaming passenger.
You'll also receive hands-on training in areas like first aid and human resource development strategies including how to maintain professionalism in a professional environment and how to deal with difficult passengers.
Who is a Flight Attendant?
Flight attendant/Airline Cabin Crew/Stewardess/Air Hostess are the most visible, glamorous jobs of all airline employees. A Flight Attendant is someone whose primary duty is to ensure the safety and comfort of passengers during a flight.
Our stdents are flying around the globe and we are confident that we can help to make your dream a reality!
About us
Maya Aviation Academy (MAA) is an independent establishment of Further and Higher Education providers since 2020, located in Laitumkhrah, at the heart of Shillong.
Maya Aviation Academy adheres to the founders' initial objective to 'support students to learn how to think critically for themselves and contribute towards making the world a better place.
The academy offers a wide range of professional programs: Airline Cabin Crew, Air Hostess, Flight Attendant, Hospitality and Tourism, Hotel Management, General English, Spanish, French, German, and more.
Flight Attendant, Cabin Crew, Stewardess, Air Hostess – Regardless of what this career is called in your part of the world, we have the training program for you at Maya Aviation Academy
Maya Aviation Academy offers
Maya Aviation Academy offers one of the best flight attendant training programs in the industry. We provide comprehensive training that covers all aspects of flight attendant duties and responsibilities, including customer service, safety protocols, and emergency procedures.
It includes classroom instruction, hands-on experience in a simulated aircraft cabin environment, and on-the-job training with experienced instructors.
The academy also provides job placement assistance for graduates who are looking for employment opportunities in the aviation, travel, and hospitality industry.